REAL REVIEWS BY
REAL PEOPLE
OUR
REVIEWS
Don't just take our word for it.
Hear what over 1 million of our customers are saying.
OUR MOST
GLOWING
REVIEWS
4.6 STAR RATINGS
4,173 REVIEWS
Designer lighting without the designer markup. Think diamond stud earrings or your favorite red lipstick, our lamps are timeless pieces that never truly go out of style. At Brightech, we offer innovative, contemporary lighting with designs to complement any space. With purposeful pieces that shine a spotlight on sustainability and conservation, you accomplish two goals in one when you choose to design your home with one of our lights.
FEATURES
Great clarity and quality
LED Lights last 20,000 hours
Great for close work at a desk in a study or in a studio
Use for a variety of projects and hobbies
3 Year warranty BizRate
Perfect Living Room Lamp!
Love this floor lamp! It was super easy to setup (although beware of the styraphoam flurry that might happen when you open the box), and looks well made. It's a warm glow lamp that is perfect for lighting up a reading nook. Will be buying from Brightech in the future.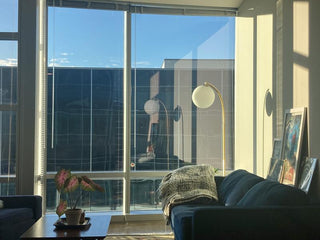 A Revelation
I wasn't confident, though cautiosly optimistic, that a beautifully desinged lamp for a price that isn't exorbitant would like high-quality IRL (often gold has a weird, fake painted on yellow-y or greenish tent, ykwim) - this is not only stunning, it's fantastic from a pure functionality standpoint as well. I already got my second BrighTech.
10 out of 10 Recommend
Just WOW. I am amazed at the quality of this lamp. Such an awesome price point for such amazing quality. This is one of my favorite pieces I've found in lighting. So unique. 10 out of 10 recomment.
Product Review
This purchase has been a dream so far. Lamps well packed, easy to set up and it's solid and made of quality materials. Ive put it in the main bedroom where it exudes style. The on/off floor switch is a bonus. Decided to mount one on the back of a nightstand for easy access
The Wow Factor of this lamp is out of this world
I came across Brightech and was immediately captivated by the unique and modular design of the Saturn Floor Lamp. Not only was it affordable and arrived quickly, but it was very simple to assemble. It's definitely a statement piece in our studio apartment. Customer service was also incredibly helpful when I had some slight trouble getting one of the rings to light up. I will definitely be coming back to purchase more light fixtures from then in the future.
Perfectly Acentuates My Apartment.
This is exactly what I've needed to finish my living room. I was eyeing the Olivia lamp for months, and am so glad I finally took the leap.
We not have 5 Brightech lamps in three styles in our home and love them all. They are reasonably priced, easy to assemble, provide tons of light and look elegant and unique. No need to look elsewhere for lamps!
Deblazer
FREE SHIPPING
Yes, you heard it right. We offer free ground shipping and returns on all orders within the 48 contiguous United States.

The warranty period for physical goods purchased from the Brightech website is 5 years from the date of purchase.

If you need your order sooner, we have expedited shipping options available at checkout
Once shipped, your order may arrive anywhere between 2 and 9 business days, depending on the shipping speed chosen during checkout and the shipping location for the order.

We do our best to process orders as quickly as we can, but unfortunately cannot control thetime the carrier takes once the order is released to them.